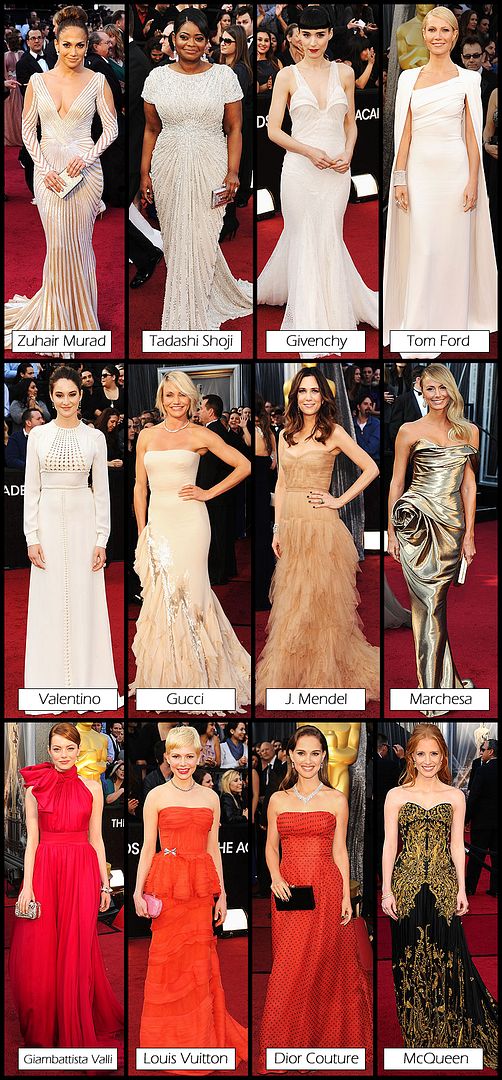 The Oscar's red carpet is a fashion lover's Super Bowl. Who wore whom and how is the topic of conversation and no one even cares who won an actual Oscar. The trends this season were white and shimmery along with reddish orange tones.
J. Lo and Octavia Spencer went head to head on the shimmery silver gown and I have to say that Octavia won by an areola. Octavia glowed in her Shoji gown and the fit was amazing. It goes to show that you don't need to me a size 2 to look amazing. Rooney Mara and Gwyneth take the cake on the waif look and while I love Rooney's Givenchy Haute Couture gown I am soooo over her "Girl With The Dragon Tattoo" look. Gwyneth wins the white off and that cape is ah-ma-zing.
From off white to gold these ladies didn't necessarily wow me but they took some fashion chances. Firstly, Shailene Woodley in her grandmother's wedding gown. Not. Good. She describes this dress as, "sooooo me" but it doesn't do anything for her amazing 17-year-old body. Cameron Diaz's Gucci dress is simple and sleek with a nice finish at the end. Not sure why she even was invited as "Bad Teacher" wasn't nominated. Kristen Wiig again went for a colorless dress and this time she
almost
looks good. If only she stopped wearing dresses the same color as her skin we might actually be able to see her on the red carpet. Lastly, Miss George Clooney looks statuesque in a gold Marchesa gown complete with hip rosette. She wins this round.
Red and orange are the colors of the season and these ladies didn't disappoint. My best dressed goes to Michelle Williams; her pixie, the peplum, the pink purse. I love how she pulled the look together. Emma Stone looks overwhelmed by her neck bow and I don't think Natalie's point d'esprit Dior gown photographed well. And last but not least, Jessica Chastain in Alexander McQueen. Jessica, thank you for wearing this. We all needed a little reminder of the great Lee during this time of couture.
images from People.com